Normally when you order concrete it will come in a rear discharge mixer unless you request a front discharge or conveyor. The average mixer weighs around 30,000 – 37,000 lbs empty up to 76,000 lbs loaded and will have 3 axles touching the ground once on site. If your site is muddy, loose sand or steep terrain you will probably want to consider a front discharge with all wheel drive.
-Rear Drive Rear Discharge Mixer 30-74000lbs, Minimum truck height 11'8″ (if requested) to 12′ 2″ Length of truck axle up 28-32 ft, 8 foot width(9 to clear) 19ft of chute. Max chute height 5 ft dependent on slump and length.
-All Wheel Drive Front Discharge Mixer 32-76000lbs, Minimum truck height  12″2-13″2  Length axle up 38-42 ft , 8 foot width (9 to clear) 21 feet of chute. Max chute height 6 ft dependent on slump and length.
-Rear Drive Mixer Mounted Conveyor 32-68000lbs, Minimum truck height 13″3 Length Length 30ft, 8 foot width(12 to clear outrigers) see below.
Front and Rear Discharge Maximum Capacity 10 Cubic Yards (dependent on road conditions, truck type, concrete type etc. Call for inquires)
Mixer mounted conveyor Maximum Capacity 7 Cubic Yards (dependent on road conditions, truck type, concrete type etc. Call for inquires)
*We reserve the right to refuse any order that does not abide by local road weight restriction laws as well as any damage done by a mixer to an existing driveway because of weight.
We currently have 2 Theam mixer mounted conveyors that can reach jobs of 55 feet. Great for doing any job that requires more than the 21ft of chute length of a normal truck. Save time and money with low rental rates and get your job completed faster. These conveyor trucks bring concrete with them and have a smaller setup area compared to our large conveyors or a pump truck. As well as the small footprint they can discharge rock making drain tile around basements a breeze. More trucks can discharge onto the Theam conveyor by positioning themselves along side or adjacent to the belt. Make sure that minimum 20ft width on your jobsite is available to accommodate multiple trucks.
Maximum Reach 55ft to tires
Maximum Discharge Height 25ft (depending on slump)
Maximum Discharge Rate 75 cu yds/hr (depending on slump)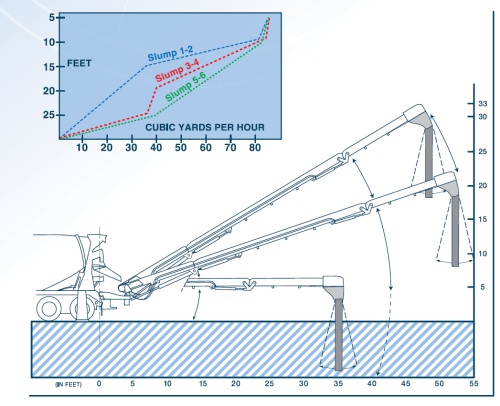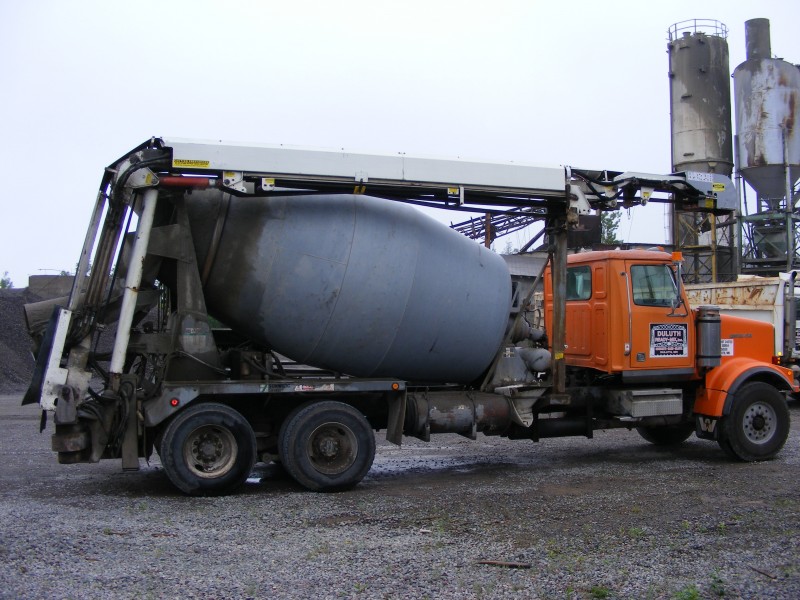 If your looking for more reach than are smaller conveyors we have an 80 foot Putzmeister Telebelt conveyor only truck. This machine will place concrete easily at over 150yds per hour making it ideal for larger jobsites. This truck will also place all type of material. With a hopper attachment you can load with a bobcat, small loader or excavator even with your own sand or gravel.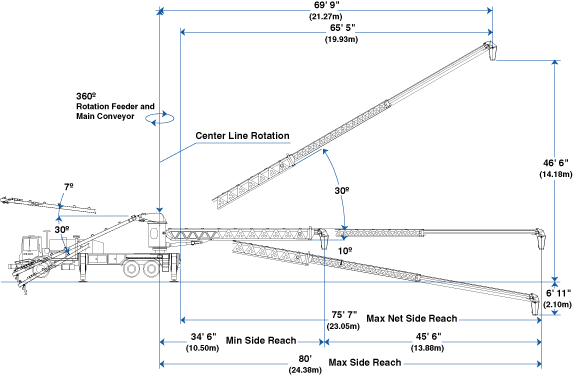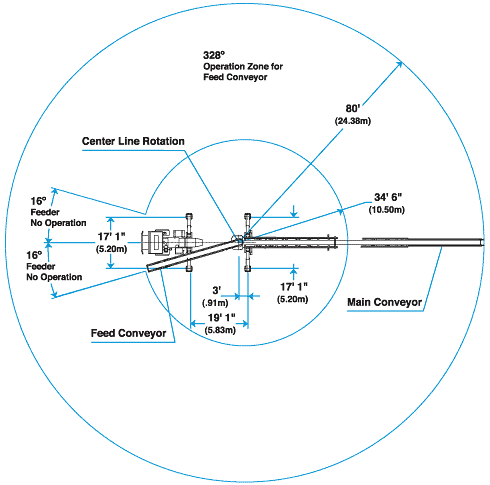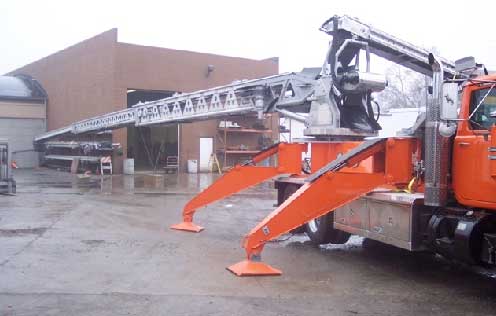 If 80ft is not enough we also have a Putzmeister Telebelt 105ft conveyor truck. It features the same abilities of the 80ft with a larger footprint.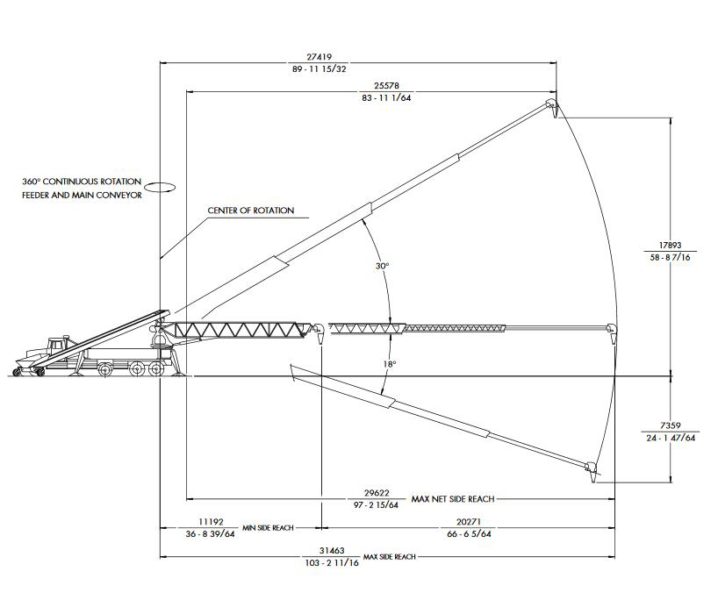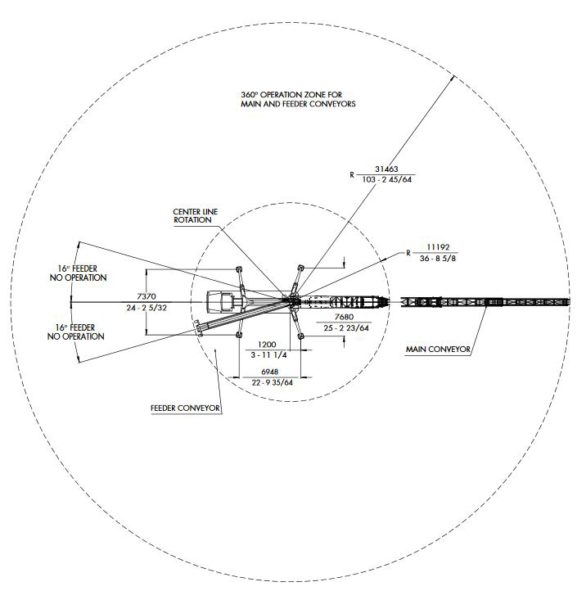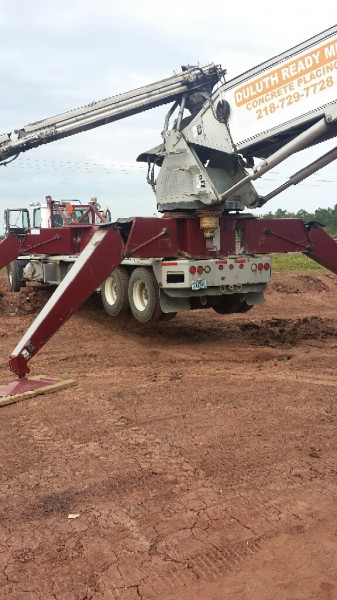 And new for the 2018 season, we have a 110′ Telebelt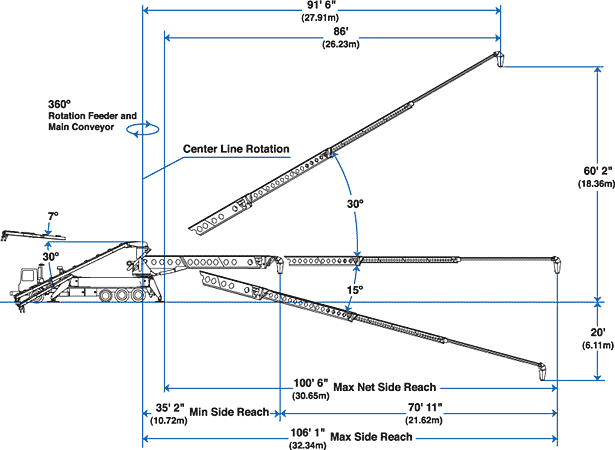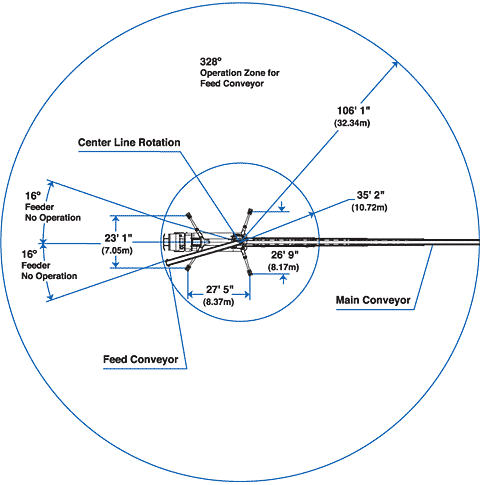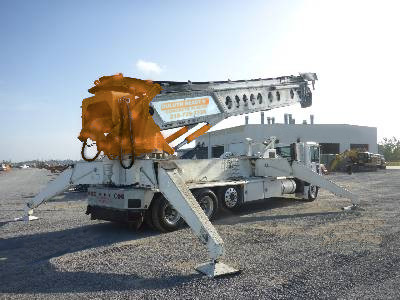 Any questions about placement please call 218-729-7728